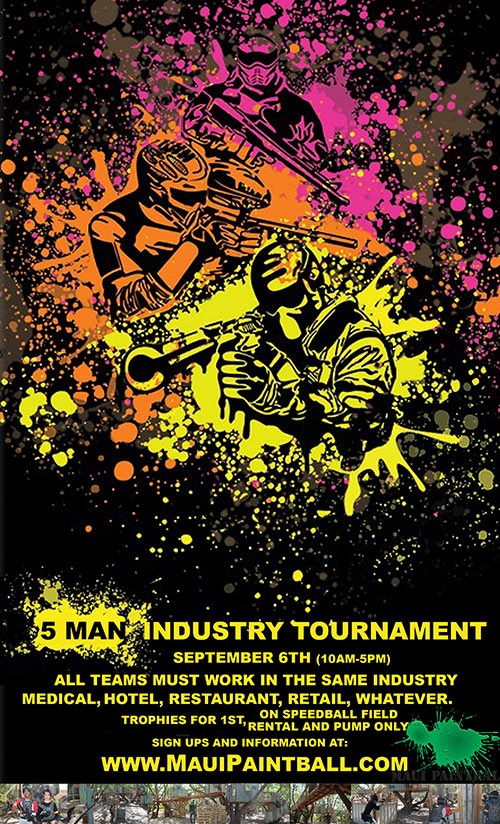 2015 ANNUAL INDUSTRY TOURNAMENT!
Sunday Sept 6th, 2015
from 10:00 AM – 5:00 PM
It's our annual INDUSTRY TOURNAMENT! With newly revised rules to make the tournament more BEGINNER FRIENDLY! This is for relatable industry people to play on the same team, so everyone on a team should either be working at the same location (hotel, mall, hospital ect..) or in the same industry (driving, medical, service, sales, whatever) at least a loose connection.
Two, only one experienced player per team so we can have fair and balanced competition (sorry Old Lahaina Luau, you rock too hard). Old Lahaina Luau could have individual players from previous teams form new teams with other Luau people or people at their location who have not competed previously. Three, its only $100 to enter a 5 person team so only $20 per person, AND THAT INCLUDES FREE ACCESS AND TRAINING to Maui Paintball until the day of the event on September 6th! Yeah, thats a deal. Four, Trophy and Medals for first place and something special for the team captain(we are working on what that is). Five, this on the speedball field. Six, this is a rental or pump only tournament but you can add your personal barrel or loader to our marker.
Teams that sign up in advance can receive free lessons and play for free up to the day of the tournament.
Call 808-866-7034