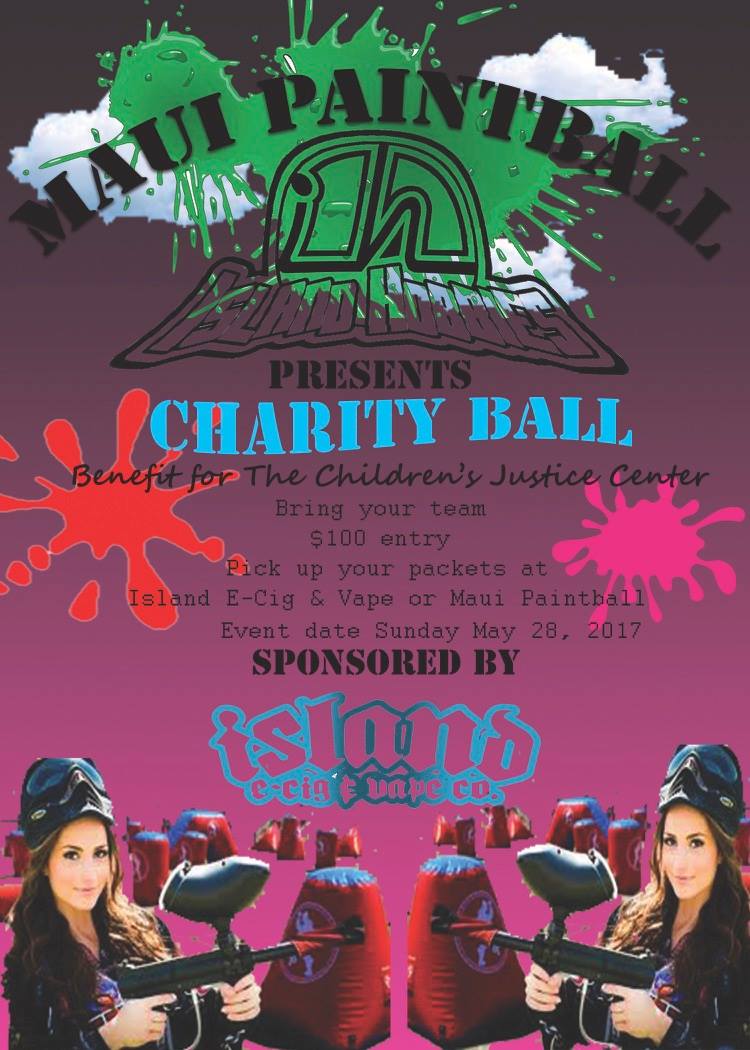 Charity paintBall May 28th!
Get your coworkers together and help friends of the children's center!
WHO CAN ENTER:
* Organizations
* Businesses
* Sport teams
* Church teams
* Coed teams encouraged
WHAT IS THE COST:
* The cost is $100 per entry. Entry cost covers equipment for 5 people. * Additional player cost $20 per person (Equipment rental fee)
No limit on members per team
5 Players on the field at a time
* The entire entry is donated to the charity.
HOW TO PARTICIPATE:
Call for reservations – 808-866-7034
Please make check out to "Friends of the Children's Justice Center"
Packets available for pick up at
Island E-Cig & Vape, 415 Dairy road Kahului
Maui Paintball field Olowalu
starting March 31, 2017
Deadline to turn in packet and entry fee no later than May 25th, 2017
WHAT IS INCLUDED IN MY ENTRY:
* Your entry includes:
-Rental gun -Rental hopper -Rental chest protector -Rental Mask -Rental Tank & Gas *Free practice time & equipment rental up to game day at Maui Paintball field
* PAINT BALLS ARE NOT INCLUDED! Paint balls must be purchased at the field, day of event
* Participants are NOT allowed to use outside paint balls for this tournament. Participants will automatically & immediately be disqualified.
WHAT TIME IS CHECK IN:
Team check in is at 8 A.M.
Game starts at 9 A.M.
Be sure ALL players are present at time of check in.
WHAT IF A PLAYER DOESN'T SHOW:
If a player doesn't show on game day, your team will have the choice to play without them or find a replacement.
NO REFUNDS
RULES:
* Referee: Garett Uyesugi
* Males- Rental gear only! Hopper ball 200 or compatible. *Females- Free gun choice and hopper ball 200 or compatible. *Center flag air ball field rules apply